Frequently Asked Questions
Choosing a Generator is a big decision
We know it's not an easy decision to make. That's why we're here to answer all your questions help you make an informed choice.
Here are some of the questions we at Mountain Generator Services get asked most often.
If you have more questions, please don't hesitate to contact us.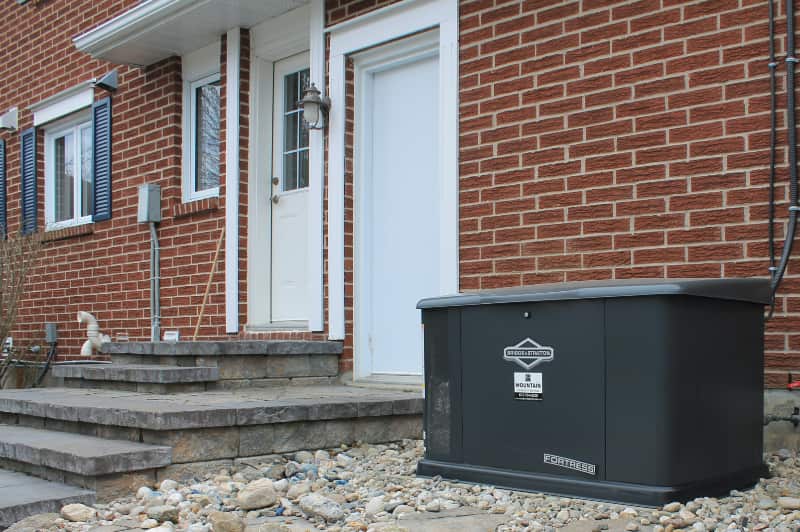 Our most important pre-purchase questions:
What are the most important considerations in buying a generator?
Here are the top 3 things you should consider before investing in a generator:
Do you want the generator to power just the essentials or the whole house?
Who will provide warranty service and maintenance for the generator?
 How

long does the warranty last, and what does it cover?
What size of generator do I need?
The size and kW capabilities of your generator should match your individual needs.
The first thing you need to decide is what you want to keep running in a power outage: only the basics, or the entire house or business.
In some situations, a larger generator is required just to run the essentials. For others, an entire house can run on a smaller generator. 
The only way to know is to see how much power is required to run each individual house or business.
Do I need to prepare a base for the generator?
We use a composite base for the generator. However, if the customer wants to prepare their own base prior to installation, they are certainly free to do so.
What types of fuel do generators use?
The Briggs & Stratton generators we sell run on either natural gas or liquid propane.
What's involved in the maintenance?
Keeping your generator properly maintained is imperative for your warranty, and for your peace of mind.
Most people believe that generator maintenance only involves changing the engine oil. While this is important, it is only a small part of the annual maintenance that is required to keep your generator running at peak performance.
Among the parts that need to be checked or replaced annually are:
Spark plugs
Air filter
Valve adjustments
Voltage sensors
Oil warmers
Gas press
And many more.
Some of these items require special tools that most homeowners do not own.
Therefore, enlisting the services of a certified Master Service Technician to perform annual maintenance on your generator is highly recommended. Learn more about our Maintenance Plans.
What advice could you give someone before they purchase?
Do some research before you buy anything, especially something that costs this much money.
Ask a lot of questions. There is no such thing as a stupid question if you don't know the answer. Once you have the generator installed, it's too late.
See how Mountain Generators stacks up against the competition.
What should I look for in a warranty?
The most important things to look for in a warranty is:
The length of the warranty; and
What it covers (beyond any manufacturing defects for a specific amount of time).
The warranty for generators varies by brand and reseller. It's important to compare the length and terms of your generator's warranty.
The Briggs & Stratton generators we sell come with a 5, 6, or 10 year warranty, depending on the model. The 10 year warranty is the longest in the industry.
The Briggs & Stratton warranty covers parts, labour and service calls for the duration of the warranty. No other company covers service calls under the warranty period.
PLEASE NOTE: Problems arising from the lack of proper maintenance are not covered under the warranty. Annual maintenance is imperative to keep your generator functioning properly and to maintain your warranty.
Why should I buy from you instead of a big box store?
The key difference between Mountain Generator Services and the big box stores is this: The big box stores are eager to sell you what you want. We at Mountain Generator Services care about making sure you get exactly the generator that you need.
Purchasing from a chain is a one-and-done transaction. Purchasing from Mountain Generator Services is a personalized experience that evolves into a long-term relationship, with the goal of giving you peace of mind.
Comparing prices and buying something online is easy these days, but what the big box stores and online warehouses can't offer is the experience and knowledge of having sold and serviced generators for about 30 years that Mountain Generator Services offers.
But perhaps even more important is the service that is required after the generator is installed. Annual maintenance is imperative to keeping the warranty, and to keeping your generator running smoothly.
Why is there a big price difference between you and the big chain stores?
The big box stores and online warehouses are showing you the price for just the generator.
Our estimate includes the generator, the installation, the base, and the extras that are required, especially here in Canada, like oil warmers.
Often times, when you calculate all these 'hidden' extras into the cost, the large chains end up being more costly. It's best to do your research and ask a lot of questions before you buy.
Find out why out clients love us, and trust us with their generators.
What is your service coverage area?
Our coverage area encompasses:
Winchester
Kemptville
Morrisburg
Prescott
Brockville
Cornwall
Sharbot Lake
Lanark
Ottawa
Quebec
What is your background and experience?
Darrin Coleman, owner of Mountain Generator Services, has been selling and servicing small engines of all kinds since 1986. He has run his own business since 1992.
To maintain his status as a standby generator dealer, Darrin must pass annual Master Service Technician exams.
Do you service generators you didn't sell?
We sell and service only Briggs & Stratton generators. If you purchased a Briggs & Stratton generator from another supplier, we can offer our services, but we will not service generators of any other brand.
Are you ready for the peace of mind that comes with a reliable, standby generator?
Book a free, in-home consultation with Mountain Generators today!